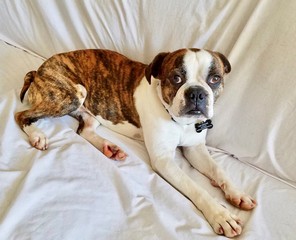 Cedar
A poem about Cedar...
Cedar likes to run and play
He's good with dogs and in his crate
Shy with people upon first meeting
On your couch he'd love to be sleeping
He's learning how to walk with a leash
Reinforce it with good treats!
Cedar is an adorable 2 year old with lots of energy! As the poem says, he loves to play and plays really well with other dogs! He's a bit shy and unsure when he meets new people. He would do best in a home without men because he is fearful of men. He likes going out for car rides and is learning leash manners. We can't promise that any of our dogs won't chew on things or are housebroken. Please be patient and give your adoptee some time to adjust to their new home. Kind and consistent training is key for any dog transitioning from their previous life to a wonderful new life with you! Cedar is good in his crate, but would really love to sleep on the couch instead! He has been vet checked and his adoption cost is $350. Apply today for sofa snoozin' Cedar! Apply Today!